Restaurant Review: Little Bay Brighton
A quirky, well-priced venue – and the opera singer's not bad either
Warning: if your natural inclination is to avoid any restaurant that even comes close to having a "theme", look elsewhere. Situated on Brighton's seafront, this local favourite offers an opera-themed live music experience on Wednesdays, with a ridiculously well-priced menu and hearty portions of classic European restaurant fare.
Little Bay's decor is unashamedly gaudy and a lot of fun – our table was in an elevated viewing box complete with velvety red curtains and an exterior of gilt-framed paintings. It's all very over the top and clearly not meant to be taken too seriously.
The food on offer you could guess without opening the menu. Steak and chips? Yes. Shoulder of lamb? Of course. A vegetarian pasta dish? You get the idea. What did require a double-take was the prices: a three-course set menu for £13! Is that a typo? I've had a large glass of wine that cost the same (OK, I paid for one on a date; I didn't order it for myself). The drinks are just as reasonable, so a three-course dinner for two with a bottle of wine and coffees was £50 before service – and there was a show.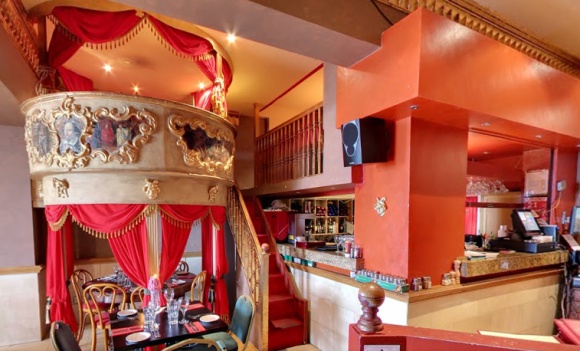 All the food we had was very nice, and the portions more than generous. It doesn't take much to see why this place is popular, especially with big groups. As every table filled up I began to worry that, in our-near private box, we'd be forgotten. However, the service was faultless, with extremely friendly staff and no waiting around.
Now it was show time, and again, nothing was taken too seriously. As the opera singer paraded across the dining room floor and through the stalls, she literally locked one unsuspecting guest in an embrace as she reached the crescendo of Parla Piu Piano (that one from The Godfather). I thought two things: "Is that going to happen to me?" (it didn't… phew), and "Who exactly is this restaurant experience aimed at?" The answer, it seemed, was just about everyone. It was a raucous evening, with guests cheering their approval from the booths and balconies. The crowd went wild, my date loved it, and did I mention the price?